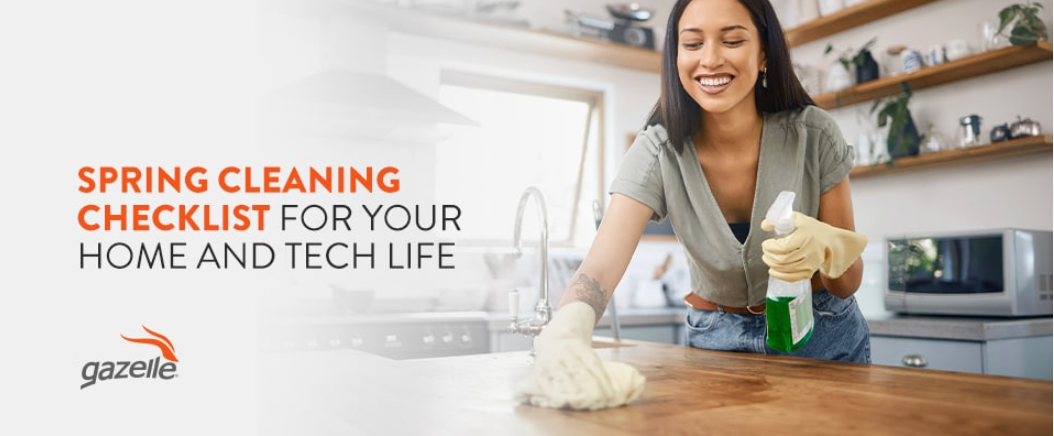 When the warmer months approach, almost 80% of Americans gear up for spring cleaning. Their lists include the usual tasks, like cleaning the fridge and dusting the ceiling fan, but digital hygiene may also make an appearance. This year, include your digital footprint in your spring cleaning list. It's a great time to declutter your electronics and make sure you're ready for a safe, secure and hygienic year to come.
Spring Cleaning Checklist for Your Home
If spring cleaning is on your mind, you're probably thinking about cleaning your home. This basic cleaning checklist covers those tasks that are few and far between, which you probably don't do regularly. We've left out more frequent cleaning tasks like laundry, dishes and vacuuming that you probably do more frequently — but we won't judge if it's been a while.
You can tackle these spring cleaning tips in any order you like. Many people like to go room by room. If you have a large house or a lot to do, consider giving yourself one or two tasks every day over a few weeks to make things more manageable.
1. Clean Upholstery, Linens and Rugs
Just because they're hard to clean doesn't mean they should never get cleaned. Grab your couch and chair cushions and take them outside. Beat out the dust as best you can, treat any stains and vacuum the fabric. Use different attachments to your advantage to get into the crevices of couches and chairs.
Consider sprinkling on some baking soda and letting it sit for 15 minutes before vacuuming. Baking soda works as a natural deodorizer for fresh-and-clean results. While you're at it, vacuum underneath the couch and other pieces of furniture you don't normally move.
Next, gather up linens that don't often get cleaned, like decorative pillowcases, drapes and curtains, and rugs and mats. In many cases, you can simply run them through the wash, but be sure to follow the instructions on the tag.
2. Wipe Down Walls and Ceilings
You might be surprised to see how much dust can gather on a flat, vertical surface. One cleaning professional suggests wiping down kitchen and bathroom walls regularly and cleaning living areas and bedrooms annually. Kitchens and bathrooms need more frequent care because moisture and oils from cooking and showering can cause dirt to stick to the walls.
Make sure your paint is washable with a spot test, then mix up some water with a little dish soap or mild floor cleaner. Dampen a mop or cloth and start at the tops of your walls, working your way down.
3. Dust Hard-to-Reach Places
Grab a duster with an extending pole and get to work on those places you never dust. Look for any high surfaces, like the tops of ceiling fans, window frames and bookshelves, as well as heating and air conditioning vents. Start at the top of the room and work your way down, so any dust you loosen up will settle in a lower space. Then, vacuum the floor when you're done.
4. Clean out Kitchen Drawers and Shelves
This task might be best saved for the weekend. Take all items out of your cabinets, including food, cookware, dinnerware and even the stuff in your junk drawer. Wipe down the surfaces with a gentle cleaner. Once your cupboards are clean, do the same thing with your fridge and freezer. If you want some extra time, you can grab a cooler to store cold food while you clean.
When it's time to put everything back, take your time and organize it. Get rid of any expired goods, and donate any dishes you don't need anymore and unexpired food.
5. Do a Safety Check
Walk through the house and test your safety devices, like smoke and carbon monoxide detectors. Usually, this is as easy as pressing and holding the test button on the unit. Ensure the sound is strong and, well, unpleasant. If not, it might be time for a new one. If you have a battery-operated alarm, swap in fresh batteries, regardless of how strong the sound is. Replace your batteries every year or when you hear a chirping noise.
Other fire safety tasks include cleaning out vents and your dryer's lint trap. Make sure your large appliances are in good condition, without any corrosion, heavy dust or spiderwebs. Take care of these problems immediately to avoid overheating or fire risks.
Make or update your home fire escape plan and other emergency plans. Check that your meeting points are still viable and that emergency tools, like escape ladders, are in good condition. Restock any emergency supplies, such as flashlights and nonperishable food items. Conduct a drill and ensure any children involved understand the process and their role. If you have pets, check that they're microchipped and that your contact information is up to date.
6. Deep Clean Your Shower and Bathroom
Bathrooms can get grimy. While good housekeeping practices dictate regular cleaning, a deep clean makes a big difference. Important parts of deep cleaning a bathroom include:
Showerhead: If your showerhead isn't too dirty, try a vinegar soak, or use a more thorough approach if it has a lot of deposits.
Shower curtains and doors: Run plastic liners through the wash or replace them entirely. Use a gentle bathroom cleaner on shower doors to get rid of grime.
Grout: Use the right cleaning materials and a grout brush to clean up discolored grout and prevent bacteria or mold growth.
Toilet: Get into all the nooks and crannies you don't usually reach in a regular toilet cleaning, including the exterior, the water tank and the hinges where the seat attaches to the toilet. Spray your toilet brush with a sanitizer and let it sit for a few minutes. Then, rinse it with hot water.
7. Get Rid of Expired Medications and Personal Care Products
Unfortunately, medications, makeup and personal care products don't last forever. Pull all these products out of their usual home and go through them. Wherever possible, check the label for a use-by date. If your product doesn't have a date, look for any glaring issues, like rusting razor cartridges or a lotion that no longer squeezes out of the bottle.
Makeup can be a bit trickier, but the Mayo Clinic offers a handy list on when to toss your products. When disposing of medications, check your local requirements and guidance. Many pharmacies have disposal drop-off boxes, and some medicines can be tossed in the trash when mixed with undesirable materials like coffee grounds or cat litter and placed in a sealed container.
How to Do Digital Spring Cleaning for Your Home
With the rest of your home spic and span, let's dive into your digital life. Digital spring cleaning includes physically cleaning your electronics and organizing your virtual resources, such as passwords and files, to keep everything running smoothly. Here are some tasks to include when spring cleaning your tech.
1. Clean Your Devices
Nearly every electronic device is prone to collecting dust, crumbs and germs. Spend some time cleaning your electronics with the appropriate materials:
Phones and tablets: On most phone and tablet screens, you can use a microfiber cloth and alcohol wipes to clear away smudges and disinfect. You can even use warm soapy water or disinfectant wipes as long as you use a gentle touch and put the cleaner on your microfiber cloth, not the device itself. Use a toothpick to gently pry debris out from your ports.
Laptops: Stick with a damp microfiber cloth for laptop screens. Use a can of compressed air to knock debris out of the keyboard. For stubborn messes, pick up a specialized keyboard cleaning brush that can help you get into the nooks and crannies without breaking anything.
TVs: Again, a microfiber cloth is your best bet. If you need more cleaning power, use a screen-safe cleaner. Dust off the back of your TV and disinfect your remote, too.
If you're not sure what you can use on your device, try an online search or contact the manufacturer.
2. Delete Old Accounts and Unsubscribe From Emails
Over the last year, you probably signed up for a few new accounts, including some you don't use anymore. It's a good idea to minimize your digital footprint by deleting those extra accounts. Many online services allow you to delete your profile through your account settings and remove your information from their servers. Pulling your information out of circulation can help you avoid being part of security breaches and data leaks.
Do you use a password manager? If so, this step is much easier since you have a list of accounts that are prime candidates for deletion.
While you're deleting accounts, update your email settings and unsubscribe from any spam listings you don't open. You can also head to your inbox or your email's trash bin and find recent spam messages. You can usually find a handy "Unsubscribe" button at the bottom of the email.
3. Clean up Your Passwords
If you use a password manager, you're already on the right track. If not, consider using one. You probably already have one built into your phone or laptop through Microsoft's Credential Manager or Apple's Passwords feature. Google Chrome and Mozilla Firefox also have free password management features.
Most of these programs have tools to help you identify repeated or insecure passwords. Go through these suggestions and make sure all your passwords are strong and unique. Update your stale passwords, too. A password manager can free you from the pressure of coming up with and memorizing diverse passwords. Instead, it can generate and store tons of passwords for easy, automatic logins.
4. Organize and Update Your Files and Apps
Keeping your phone or computer free of extra apps and files can help it run its best. Perform the following tasks to give your electronics a spring refresh:
Update your software: Check for updates to your computer or phone's operating system and individual software programs. They can fix bugs and provide crucial security patches.
Scan for viruses: Use your computer's built-in antivirus scanner or third-party software to check for malware.
Organize and remove excess files and photos: It's easy to get bogged down by photos and files, so use spring cleaning as your opportunity to clean them up. Remove duplicate or unneeded photos and documents. Consider offloading some to an external hard drive or the cloud to declutter and free up storage space.
Get to inbox zero: Delete any unnecessary emails clogging up your inbox so you can start fresh.
Remove unwanted apps: Apps can take up a lot of space and make your device feel more cluttered. Take some time to delete apps you don't use from your phone, tablet or computer.
5. Refresh Your Profiles
Log into your social media accounts and freshen things up. Consider replacing an outdated profile picture, deleting unwanted photos and posts and removing friends you no longer talk to. While you're at it, review your privacy settings to make sure you're only sharing what you want to share.
Tips for Old Electronics
As you dive into spring cleaning, you may find yourself with old electronics you need to get rid of. From old cell phones to blenders and laptops, proper disposal is crucial. If you toss them in your trash, you could be contributing to electronic waste, also called e-waste.
E-waste is a significant problem for our planet, mostly due to valuable or toxic substances used to build electronics. Some devices contain toxic materials, like lead or mercury, that can seep into the environment and create health hazards for people and animals. Electronics often use non-renewable resources, such as gold, silver and copper. When they end up in a landfill, we cannot reuse the materials in more valuable ways.
Thankfully, electronics can be recycled. We can recover those non-renewable materials and prevent toxic substances from entering our ecosystems. Unfortunately, only about 17% of e-waste gets recycled, and the amount of e-waste generated each year is only expected to rise. Everyone who uses electronics has a role to play in reducing the threat of e-waste.
Like other environmentally friendly practices, reusing and recycling are great ways to extend the life of a used device or its components:
Reuse: When upgrading, see if someone else could use your phone. Consider selling it or giving it to a friend, family member or charity. Trading in old electronics is easier than ever, and it can put some extra money in your bank account.
Recycle: If all else fails, responsibly recycle your used electronics. Your local waste management service likely has an electronics recycling program where you can drop off your items. You may also be able to give them to phone carriers or electronics retailers.
Whatever you do with your old electronics, keep them out of the trash! Phones and laptops are excellent candidates for trade-ins, while many appliances can do a lot of good as donations.
Trade in Your Old Electronics With Gazelle
Finish your spring cleaning strong with some extra money in your wallet. If you came across any phones, iPads or MacBooks you don't need anymore, trade them in with Gazelle! We offer a quick and easy trade-in process, complete with free shipping and quick payments. You can earn money for your used electronics while doing your part for the planet.
Get your trade-in offer today to make the most of your used devices and start your summer off right!
Comments
comments