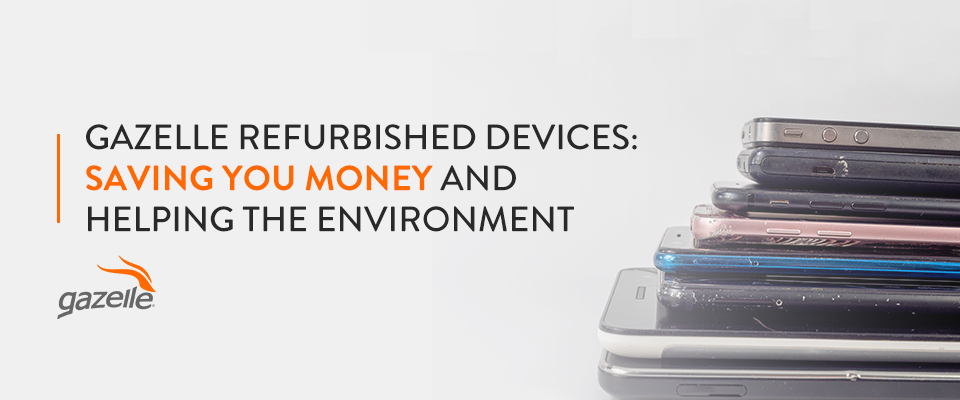 Looking for away to save money on electronics without sacrificing quality? There are several ways to save big on your next iPhone, Samsung Galaxy, iPad or even MacBook. These gently used devices are not only affordable, but they also help the environment by reducing electronic waste. In this article, we'll dive into what makes us, Gazelle, stand out from the rest and why buying refurbished is the way to go.
What are Gazelle Refurbished Devices?
Gazelle refurbished devices are certified pre-owned cell phones and other electronics that come at big savings compared to buying new. We assure quality by subjecting each device in our inventory to a thorough refurbishment process before selling it on our website – a 30-point inspection to be exact.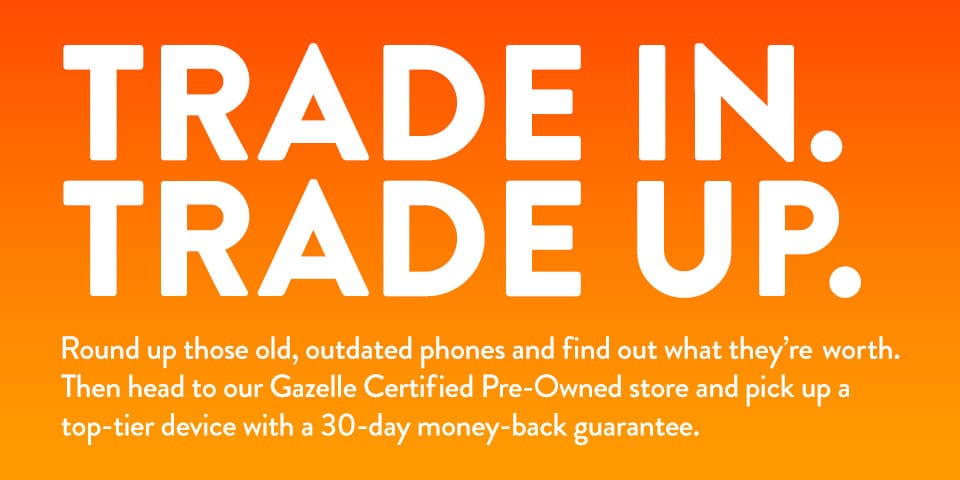 These devices are not only affordable but also environmentally conscious, as they reduce the amount of electronic waste produced when people throw away old devices. Buying brand new may come with that incredible temporary seratonin boost, but you're actually contributing to the larger problem of shorter device lifespan and increase production. Big yikes.
Certified Pre-Owned Electronics
What exactly does it mean when a device is "certified pre-owned"? Essentially, it means that the device has been thoroughly inspected, refurbished, and tested to ensure that it meets the same standards as a brand new product. We have our own Gazelle Certified Pre-Owned gurantee that gives you a peace of mind when ugrading to your next device.
So why choose a certified pre-owned device over a brand new one? For starters, you can save money while still getting a high-quality product that functions just as well as if you bought it brand-new. Additionally, buying used devices helps reduce e-waste and supports sustainable practices. At Gazelle specifically, our inventory of certified pre-owned devices comes with an extensive certification process so that you know you're getting reliable electronics at an affordable price.
How does we certify their devices? They take several steps including cosmetic inspection (to ensure there are no defects), functionality testing (to make sure everything works like new), repair or replacement of any defective parts (so the device is fully functional) before finally repackaging the item in its original packaging along with essential accessories such as chargers and cables.
Thorough Refurbishment Process
We take great pride in our thorough refurbishment process, ensuring that every device is restored to its original condition. Our team of experienced technicians performs a detailed inspection and repair process that includes:
Thorough cleaning and sanitization
Replacement of any broken or malfunctioning parts
Rigorous testing to ensure optimal performance
All refurbished devices are also certified, meaning they have passed our strict standards for quality assurance.
In addition, all Gazelle refurbished devices come with a 30-day return policy and a 1-year warranty against defects in materials or workmanship. This ensures that customers are satisfied with their purchase and can trust the product will last for years to come.
Benefits of Buying Refurbished Devices from Gazelle
Gazelle refurbished devices offer an affordable way to upgrade your electronics without breaking the bank. With prices up to 40% off retail, you can get a high-quality device at a fraction of the cost. Plus, our rigorous testing and certification process ensures that every device meets their strict standards for quality assurance.
By choosing to buy from Gazelle, you are also making an eco-friendly choice. Refurbishing electronics extends their lifespan and reduces e-waste in landfills. This helps conserve resources and protect the environment for future generations.
Affordability
With low prices on gently used electronics, you can save big compared to buying new devices. Opting to go the refurbished route means that you also have the opportunity to get high-end devices at a fraction of the cost. Why pay more when you can enjoy quality technology without breaking the bank? That's a win-win, friend.
Quality Assurance
Our commitment to quality assurance is at the forefront of everything we do here at Gazelle. We understand that when it comes to used electronics, reliability and functionality are top concerns for our customers. That's why we take extensive measures to ensure every device passes a thorough inspection before sale.
Our comprehensive inspection and testing process includes:
A full diagnostic test of all hardware components
Restoration of factory settings
A final quality check before packaging
In addition, any necessary repairs are made using genuine manufacturer parts only. This ensures that each device is restored to its original state and performs like new.
Eco-Consciousness
By extending the lifecycle of your electronic devices, you can play a significant role in reducing electronic waste. Our trade-in program has been able to keep millions of dollars worth of products out of landfills by refurbishing and reselling gently used electronics. By choosing refurbished devices from Gazelle, you not only save money but also contribute towards lower carbon footprint compared to producing new electronics.
Warranty and Customer Support
At Gazelle, we strive to provide our customers with not only high-quality refurbished devices but also peace-of-mind. That's why all Gazelle Certified devices come with a 30-day return policy and a one-year warranty. We stand by the quality of our products and want you to feel confident in your purchase.
In addition, we have a dedicated customer support team ready to assist you with any questions or concerns you may have. Whether it's help setting up your device or troubleshooting any issues, we're here for you every step of the way. Trust in Gazelle for reliable products and excellent customer service.
30-day return policy for stress-free returns
Timely shipping with tracking and updates every step of the way
One year warranty on all Gazelle Certified devices
Dedicated customer support team available for assistance
Why Gazelle is Better Than The Other Guys
When it comes to refurbished devices, we set ourselves apart with our higher standards.
By purchasing a gently used device from us instead of a brand new one from the manufacturer, you can save hundreds of dollars without sacrificing on quality or functionality. It's a win-win situation for both your wallet and the environment.
Higher Standards
When it comes to refurbished electronics, we set the bar high with our commitment to higher standards. Here are a few ways they ensure that every device meets their quality criteria:
Stringent testing and inspection processes:
Each device undergoes a thorough 30-point inspection before being approved for sale, including checks for functionality, cosmetic condition, and factory resetting.
Certification from third party organizations:
Many of Gazelle's devices come with certifications from reputable organizations like Certified PreOwned or Microsoft Authorized Refurbisher Program.
This attention to detail means you can trust that you're getting a reliable device at an affordable price when you shop with us at Gazelle.com.
Better Quality Control
Thorough cleaning and sterilization process, rigorous functionality tests before sale, and comprehensive data wipe to protect privacy are just a few of the ways Gazelle ensures better quality control for their refurbished devices. By implementing these processes, they provide consumers with reliable electronics that function like new without breaking the bank.
Thorough cleaning and sterilization process:
Every device goes through a detailed cleaning process to remove any dirt, grime or bacteria.
Rigorous functionality tests before sale:
To ensure full functionality of each device, Gazelle runs multiple tests on different hardware components.
Comprehensive data wipe to protect privacy:
Personal information is completely erased from all devices using industrystandard wiping software so you can feel confident your data is safe.
More Affordable Prices
We offer a variety of options to make our already affordable prices even more budget-friendly, including:
Discounted prices compared to buying new devices
$0 down payment and low monthly payment options available
Frequent sales and promotions for even more savings
At Gazelle, we believe that everyone should have access to reliable electronics, regardless of their budget. That's why we've made it easy and affordable to get your hands on the latest technology without breaking the bank. With our flexible payment options and unbeatable deals, there's never been a better time to shop with us!
Do your part to limit electronic waste while saving up to hundreds of dollars by choosing a Gazelle certified device for your next upgrade.
Comments
comments