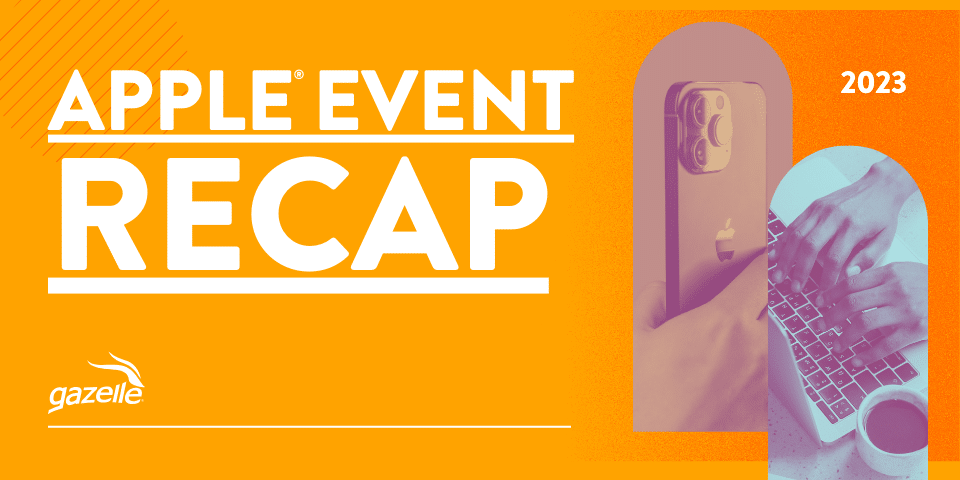 It's mid-September, which can only mean one thing: the annual Apple Event. Each year, top representatives from the company gather to showcase some of the brand's newest devices, gadgets, and software iterations. Here's what we saw at the 2023 Apple Event. 
Out of the gate, Tim Cook appeared with updates about the 15" MacBook Air and the rest of the lineup, noting how capable their latest computing devices are. Cook also mentioned new developments around Apple Vision Pro, the company's approach to AR-enhanced content and spatial computing. 
Apple Watch
The Apple Watch is known for keeping users healthy, active, and engaged. So, how does Apple improve on an already successful product? The next generation of Apple Watch comes loaded with exciting features that push the device further. 
Using Apple Silicone to power the watch and proprietary chips that integrate with the watch OS, the watch can help you monitor workouts and sleep schedules, and even detect car crashes. The watch uses an S9 CPU with 5.6 billion transistors, making it much quicker than the previous model. This adds to smoother animations, more immediate task loading, and faster app launches. 
In addition, the Series 9 Apple Watch boasts an 18-hour battery life. You can use Siri and integrated smart home devices to close your garage, start apps, or set alarms. Siri now loads from the device using a neural engine and a more advanced model that makes results more accurate and allows for speedier responses.
Siri can also access your health data, sleep information, heart rate, and much more with a simple question. Siri's health features will launch in English and Mandarin later this year, with additional languages coming after. 
Watch OS 10 has a feature called "Name Drop," where you can quickly exchange contact information via wristbands. The ultra-wideband chip enhances the device's Find My features, offering haptic and audio feedback to help guide you to your iPhone or tablet.
The Apple Watch can also integrate with the HomePod to seamlessly control music, podcasts, and other audio. It uses an edge-to-edge retina display and 2,000 nits of brightness, double that of the Series 8. Dark mode goes down to just one nit so you can sleep without your watch waking you up.
Series 9 also enables new gesture-based controls. By tapping your index finger and thumb together twice, you can single-handedly answer and end calls. Apple calls this feature "Double Tap," and it can also snooze alarms, play music, and launch your widgets. 
Series 9 will be available in Pink Aluminum and other colors like Starlight and Midnight. The Series 9 also has stainless steel options and will come with several band selections, including woven and knitted bands alongside molded rubber. 
The Apple Watch Series 9 launches on September 22nd and starts at $399. 
Apple Watch Ultra 2
If you want the latest and greatest from Apple's rugged wearable line, you'll be interested in the Apple Watch Ultra 2. The Ultra 2 is a durable watch that can withstand severe conditions, using the S9 SiP for Double Tap gestures and voice-activated waypoints. The Ultra 2 also has a new display architecture that hits up to 3,000 nits, making it Apple's brightest. 
The watch face is Modular Ultra, showing altitude, depth, and other custom settings. Night mode also uses ambient light sensors to adjust the display automatically. 
The Ultra 2 can connect to Bluetooth devices for runners and cyclists to measure cadence, speed, and power. You can also use the Ultra 2 to record altitudes for hikes and depths for dives, storing information seamlessly after each excursion. 
The Ultra 2 gets up to 36 hours of battery life on a single charge and up to 72 on Low Power Mode, making it an excellent choice for outdoor enthusiasts, campers, and explorers. 
The Apple Watch Ultra 2 launches on September 22nd and starts at $799.
iPhone 15 and iPhone 15+
iPhone 15 boasts a more capable Dynamic Island that lets you see flight updates, game scores, and other live information. It will use iOS 17, which introduces the Standby feature, activated by turning your device on its side while charging. 
iPhone 15 uses a Super Retina XR Display with OLED Technology and support for Dolby Vision. The iPhone 15 reaches 1,600 nits of brightness on a 6.1" screen, and the 15 Plus reaches 2,000 nits on a 6.7" screen, making them brighter and more vibrant than ever. 
The series comes in several colors, including pink, yellow, blue, green, and black. Each device is polished with nano-crystalline particles and then etched to give it a smooth feel. Also, the ceramic shield provides superior drop and shock resistance while the device maintains robust water and dust resistance. 
The camera received several upgrades, jumping to a whopping 48 megapixels, which can maximize your image and video resolution and capture fine details even while zoomed in. The device uses computational photography and sensor groups that cluster pixels together for better light capture. Then, the engine optimizes the light capture and combines it with a high-resolution image for superior details to create a 24-megapixel photo.
With a central 12-megapixel camera, the device enables 2X telephoto zoom and image stabilization, leading to more precise, crisper images. You can frame scenes using the 4K Cinematic Mode, which also includes enhanced portrait photography capabilities. 
The iPhone 15 uses machine learning to recognize when there's a subject in the shot and automatically introduces rich depth touches to the finished images. Hence, you never have to worry about forgetting to turn on Portrait Mode. You can also switch the focus in images even after the picture is taken, making it simpler to capture the right shots. 
Night mode provides better dark scene lighting and true-to-life colors than ever before. The iPhone 15 uses Smart HDR technology to provide brighter highlights and richer deep tones without compromising the image's overall quality.
The iPhone 15 uses the A16 Bionic Chip previously introduced in the iPhone 14 Pro. The A16 chip enables the camera's processing needs and lends itself to photography, voicemail transcription, and gaming, all while using less power than the A15 chip.
The iPhone 15 Plus naturally offers a larger battery than the standard 15, though both provide lengthy browsing, gaming, and streaming times depending on usage levels and your power-saving mode. 
Like the new Apple Watch, the iPhone 15 includes the U2 ultra wideband chip for better location services, connectivity, and device finding. iPhone 15 uses more advanced machine learning that prioritizes your voice. You can also use the Voice Isolation tool to filter out background noise, meaning clearer calls and less confusion. 
Apple also confirmed that they're bringing USB-C to the iPhone family, and now users can rely on the same cable to charge all of their USB-C-enabled devices. Though the brand has finally moved away from the Lightning charger, its devices still include MagSafe to keep chargers in place. 
The iPhone 15 launches on September 22nd at $799 for the base model and $899 for the Plus. 
iPhone 15 Pro
The iPhone 15 Pro comes powered by the most advanced Apple Silicone yet and uses high-quality titanium to create lighter, more durable Pro models. The Pro model also includes finely contoured corners and thin edges for maximum screen size. Much like the iPhone 15 and 15 Plus, the Pro comes in two sizes: 6.1" for the iPhone 15 Pro and 6.7" for the iPhone 15 Pro Max.
The iPhone 15 Pro build includes a titanium alloy identical to that used to craft the Mars Rover. Using aluminum on the inside makes the device better at thermal dissipation, which can help prevent the device from overheating. The Pro lineup has black, white, blue, and natural titanium options and uses 100% recycled aluminum in the finished product, contributing to the brand's 2030 carbon reduction goals. 
iPhone 15 Pro has also retooled the action button and made it more customizable. You can still switch between Ring/Silent with a press of the button or customize it to start voice memos, launch cameras, open accessibility features, or launch other apps and shortcuts. Each interaction gives you visual feedback on the Dynamic Island alongside haptic device feedback. 
The Pro boasts some performance gains over the 15 and 15 Plus. The new generation includes the latest Apple Silicone, using the industry's first three-nanometer chip, the A17 Pro, to enable ultraviolet photography.
The device's performance cores are now up to 10% faster, with speeds that can challenge high-end computers, and the efficiency cores received upgrades, too. The neural engine is now roughly twice as fast, processing 35 trillion operations per second. Like the other devices, the Pro has USB-C connectivity alongside an included USB controller for USB-3 speeds up to 10 gigabits per second, up to 20x faster than USB-2 transfer speeds.
The new CPU and GPU enable greater efficiency, peak performance, fast rendering, photographic ray tracing for better light and reflections, and greater control than previous Apple devices, making the Pro series a must for high-end tech enthusiasts.
As for the camera, it blends multiple lenses, computational power, and strong hardware to create a device with the equivalent of seven camera lenses. Like other models, it uses a 48-megapixel camera but also includes a larger sensor for stronger Night Mode photos and better light capture.
The device can shoot high-definition photos in 24, 28, and 35mm and also includes stronger focus and depth control alongside macro photography options with 10x zoom options for a powerful, multipurpose camera.
The iPhone 15 Pro and Pro Max launch on September 22nd at $999 for the Pro and $1,199 for the Pro Max, starting at 256 GB of storage.
Trade in Your Used Phone with Gazelle  
Ready to upgrade your phone to the new iPhone 15? We'll have Apple's latest products in our inventory soon, and you can even get an offer for any eligible device trade-ins. Visit our website to get an instant quote for your phone and trade in before it loses value with the new releases! 
Comments
comments