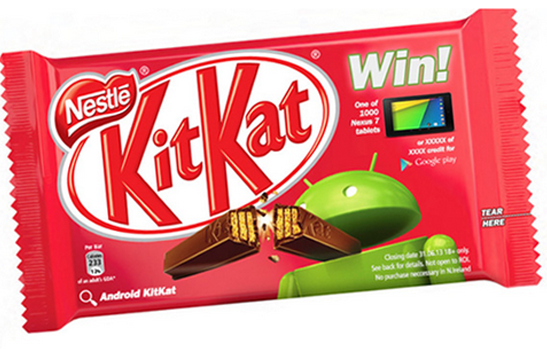 Google has managed to take some of the buzz away from the Apple event invitation with some interesting news of their own. Many were expecting the next version of Android to be called Key Lime Pie, but has named their new Android Version 4.4 Kit Kat instead.
The news leaked Tuesday morning after Labor Day when Android chief Sundar Pichai posted a picture of the new Kit Kat Android statue on Google headquarter's lawn. Android has partnered with Nestle to deliver KitKat 4.4 as part of a promotion. Google has also said specially wrapped KitKat bars with Android branding will appear in stores.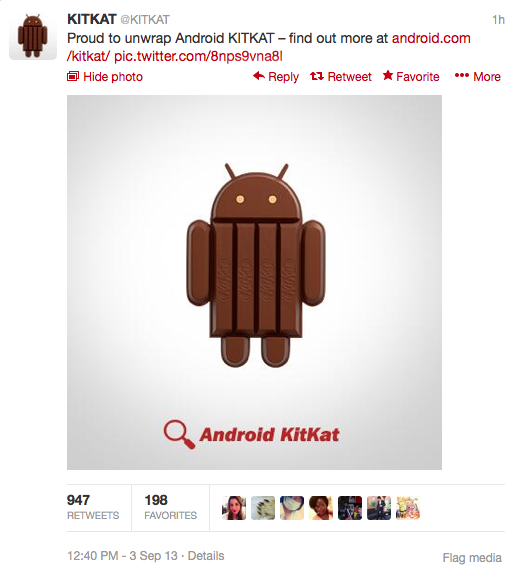 Android 4.4 KitKat is expected to launch on the latest version of the new Nexus device in the coming months. Little details have been shared on the upcoming device as we still don't know who will be manufacturing it. The very first Nexus came from HTC as the Nexus One. The following two Nexus phones were made by Samsung (Nexus S and Galaxy Nexus). The latest version from LG (Nexus 4) has been the most successful out of the bunch. A price drop last week to $199 had the Nexus 4 device sold out in less than a week.
As for the next Nexus maker, I would love to see Sony finally get a crack at it. You already have heard my feelings about Sony's designs and device in my Xperia Z review. Does the newest version of Android 4.4 have you excited for the next Nexus phone?
(image courtesy of Nestle)
[cf]skyword_tracking_tag[/cf]
Comments
comments