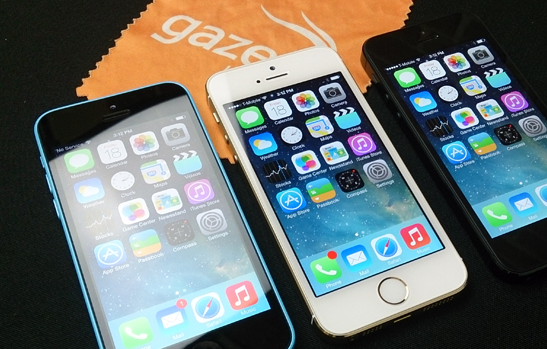 All the top Apple news and rumors return in this week's Apple report right here on The Horn. On tap today, we have some new sales data on the iPhone 5S and news of a big update for all you Apple TV owners. Last but not least, we look at Apple's new 12 days of holiday gifts app as we prepare for some great app deals later in the month.
Top Apple News and Rumors
Curved iPhones coming soon?
12 Days of Apple gifts and deals
iPhone sales hit 175 million units
Apple TV Update brings new channels
Siri voice-recognition service improves
New Curved iPhones Coming in 2014?
According to speculation surrounding a new patent filing, Apple is looking into adopting curved touch displays for its flagship iPhone as well as an upcoming smartwatch. Apple Insider reports that the patent details a manufacturing technique that is different from those currently employed by Samsung and LG, designed to create a curved touch surface that is more accurate and durable than those produced by other companies. Reports surfaced several weeks ago through outlets such as Bloomberg that Apple was considering making a device with a curved display for a possible 2014 launch, and this new patent filing seems to all but confirm these rumors. As usual, Apple has not commented on this patent filing, and there's no official word about when or if the next iPhone will use this technology.
Apple features 12 Days of Gifts App
Traditionally, Apple has showered users in locations such as Canada, Europe, and Japan with freebies during its "12 Days of Christmas." According to The Verge, the holiday tradition will finally be observed in the U.S., where it has been re-branded as "12 Days of Gifts." While users can download the 12 Days of Gifts app free from iTunes, it will not start delivering goodies until December 26. Based on past giveaways, Apple has given away desirable gifts in multiple categories. Gamers have been treated to titles such as Broken Sword, Score Classic Goals, and Sonic Jump. Each day's gift will only be available for 24 hours, so download the free app over on iTunes to make sure you don't miss out.
New Apple TV channels arrive
This week Apple announced that it has added several new channels to its Apple TV device, including financial channel, Bloomberg, streaming movie and TV show channel, Crackle, and Korean channel, KORTV, have been added to the device, according to MacRumors. In addition, a "Watch ABC" application has been added to Apple TV, which allows certain cable subscribers to stream ABC content from their local affiliate. With all these choices, Apple TV users might feel a bit overwhelmed when they start up their devices. Fortunately, Apple has confirmed to 9to5Mac that an upcoming update will allow users to hide channels they do not want to watch. Although this feature has always been a part of the Apple TV firmware, it has been hidden away in the parental controls settings. With this new update, Apple TV channels that users aren't interested in will be easier to hide.
iPhone sales to hit 175 million units in fiscal 2014
Tech news blog, CNET, has recently detailed the latest smartphone sales numbers from analyst group Canaccord Genuity. The numbers show that Apple's iPhone 5S is indeed the sales leader across all major US carriers. Samsung's Galaxy S4 and the iPhone 5C completed the top 3 phones sold during the quarter. According to Canaccord Genuity analyst, Michael Walkley, iPhone sales may see a big surge heading into next year. The analyst predicts iPhone sales to hit 175 million units in fiscal 2014 and 193 million units in fiscal 2015. These latest estimates are an upgrade from the previous predictions of 171 million for fiscal 2014 and 186 million for fiscal 2015.
The accuracy of Siri looks to be improving

Our good friend over at Piper Jaffray, analyst Gene Munster, recently studied Google Now and Siri's accuracy to understand users and present relevant results. Munster gave both Apple and Google Now's software C+ grades after asking each 800 questions and comparing the results with last year's measurements.
Siri's ability to answer queries correctly in a noisy, uncontrolled environment was its main improvement, with a jump from 84 to 94 percent accuracy. This helped to bump the average Siri accuracy score to 79 percent. Apple's software also showed improvements in its overall ability to answer a question, which increased in accuracy from 87 to 94 percent from iOS 6 to iOS 7.
[cf]skyword_tracking_tag[/cf]
Comments
comments