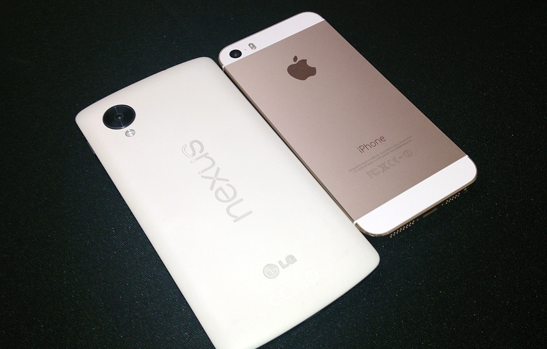 Are you considering switching cell phone carriers? First, you need to unlock your iPhone or Android smartphone. This guide will help you better understand just what is a locked phone and why do carriers lock them. This guide will also help explain how the unlocking process ultimately gives your device the freedom it deserves. We've compiled easy, step-by-step instructions on how to unlock your iPhone or Android smartphone. Click here for the step-by-step instructions.
Why is my smartphone locked anyway?
Let's start by understanding just what is a locked phone to begin with. High-end smartphones, like the iPhone 5S and Galaxy S4 are very expensive — $599-799, depending on make and model. Traditionally, carriers subsidize the purchase price in exchange for, on average, a two-year contract. As a result you end up paying closer to $199 for your phone. If you want to purchase one of these devices without a contract or "SIM free," as they call it, you'll need to pay the full $599-799 upfront.
The binding contract ensures that the carrier is able to recoup its subsidy over the course of the contract. If you break the contract early for any reason, they charge you an ETF (early termination fee) to ensure they get their money back.
So why should I unlock my smartphone?
GSM devices (phones with SIM card slots), once unlocked, can be used on any compatible carrier around the world that provides GSM service. It's literally as easy as popping out your current SIM card and putting the SIM card of your choice in the phone.
For example, in the U.S., AT&T customers who are eligible to unlock can do so with most smartphones and easily switch to T-Mobile without changing phones. Since both carriers use GSM technology, consumers can just switching out the SIM card.
Also worth noting, you will get more cash for your unlocked phone compared to a phone locked to your carrier when you trade it in. An unlocked phone can be used – and sold – anywhere around the world, which increases the amount of money people are willing to pay for your used phone. If you have a locked AT&T iPhone, however, the new buyer will also have to be on AT&T or the phone will need to be unlocked by the new owner. Unlocking a device, if you're not the original contract owner, is impossible in some cases and can cost up to $150 today through a third party in other cases, and this dramatically decreases the price a new buyer is willing to pay you for that old phone.
At Gazelle, we pay much more for an unlocked AT&T phone than a locked phone: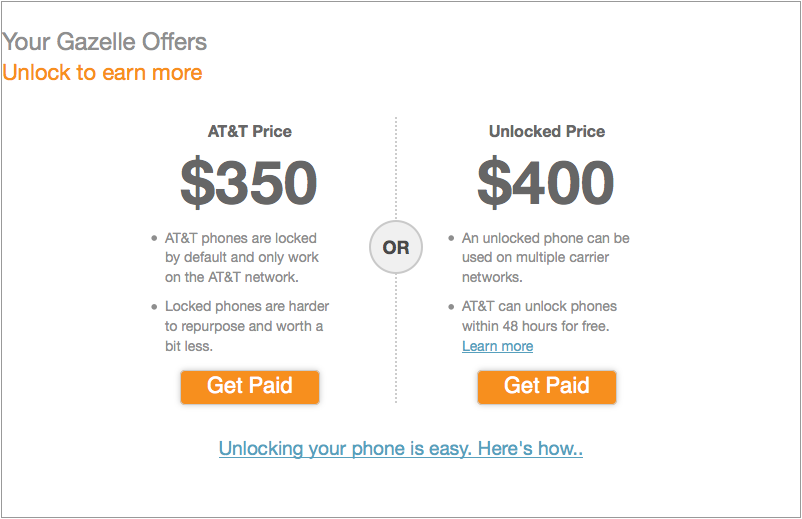 (Good condition iPhone 5S 64GB AT&T iPhone vs. Unlocked iPhone quote at Gazelle)
Ready to unlock your smartphone now? Check out our full guide on "How to unlock your iPhone or Android device" right here on The Horn.
[cf]skyword_tracking_tag[/cf]
Comments
comments