Battle of the Mid-Range Phones Pixel 4a vs iPhone SE
Mid-range phones give you all the convenient features of a brand-name phone and operating system without a hefty price tag. With the recent releases of the Pixel 4a and iPhone SE, Google and Apple are setting a new and impressive industry standard for mid-range models. Apple's iPhone SE is a second-generation version of an earlier model they released in 2016, but with more powerful performance. Google's Pixel 4a is a follow-up to the popular Pixel 3a, their former mid-range champion.
Technical Specs
The best part about choosing a mid-range phone is that you get similar performance to high-end models for a smaller investment, which makes it the perfect compromise for those who need top-of-the-line performance on a budget. When buying a mid-range phone, you want every dollar of your investment to count. That's why it's important to take a close look at each model's dimensions and internal specs and see which one will be the best for your lifestyle.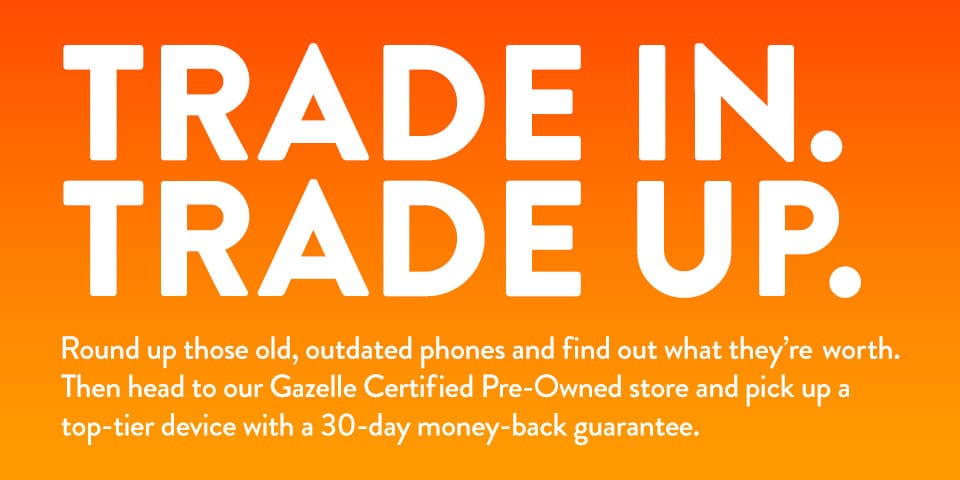 Pixel 4a
Google's Pixel 4a is small and lightweight, perfect for easy use on the go:
Width: 2.7 inches
Height: 5.7 inches
Depth: 0.3 inch
Weight: 5 ounces
The Pixel operates on Android's latest 10+ system and uses the Qualcomm Snapdragon 730g processor. This makes it a great fit for users who enjoy mobile gaming. Google lists the 4a's battery as an all-day battery, but the thing to note here is the impressive addition of Adaptive Battery, which tracks the apps you use most frequently and reduces battery power given to background apps you don't use as often. Wireless charging is not an option for the Pixel 4a, but you can pair it with an 18w fast charger.
In terms of storage, you can expect 128 GB of space with no MicroSD slot. Instead, it has Dual SIM capabilities, which include a nano-SIM card and an eSim card. Dual SIM phones offer ample storage space and let you have two separate phone numbers attached to the same device.
iPhone SE
The iPhone SE is roughly the same size as the Pixel 4a, but slightly smaller and 0.22 ounces heavier:
Width: 2.65 inches
Height: 5.45 inches
Depth: 0.29 inch
Weight: 5.22 ounces
The SE runs on an iOS 13 operating system with a Bionic chipset, making it much faster than older Apple phones of a similar size. The SE has Gigabit-class LTE, so you can get a fast connection whether you're using Wi-Fi or your data plan. And with 13-hour battery life, you can stream videos, listen to music, check emails and get work done in no time at all. When you start to run low, all you have to do is set your phone on a wireless charging port or connect it for fast charging, and you're good to go.
You'll also have plenty of storage, depending on your needs, as the SE comes in 64GB, 128GB and 256GB variations. It is worth noting that the SE is not compatible with micro-SIM cards, so you won't be able to transfer an existing storage device to your new cell phone. Like the Pixel, the SE has Dual Sim capabilities with a nano-SIM and eSim card but no MicroSD slot.

Camera and Recording
Today, a cell phone is only as good as its camera and recording capabilities. When gauging a cell phone camera, consider the megapixels, as well as the bright aperture, screen size, stabilization abilities and zoom strength. Other desirable qualities include HDR and ISO control, which balance light, shadows and highlights in your images. For videos, 4K is an increasingly popular choice for phone users, and the higher the fps, the smoother your playback will be.
Both mid-range phones have image stabilization technology, autofocus and 4K video recording capabilities. While the Pixel 4a is an excellent choice for low-light photographers on a budget, the iPhone SE offers more artistic options, including portrait lighting and depth control. Depending on the types of photos and videos you take, either phone could work for you.
Pixel 4a
Interested in vlogging, photography or capturing all of life's milestones? The Pixel 4a is here to help with an acceptable front and rear camera for a mid-range model and a Night Sight feature for low-lighting.
In addition to standard smartphone camera features, like optical and electronic auto image stabilization and autofocus, the Pixel 4a has a front-facing camera with 8 MP and ƒ/2.0 aperture. Video recording in 4K shoots up to 30 fps, and 1080p records up to 60 fps. The rear-facing camera is a 12.2 MP with dual-pixel phase detection and ƒ/1.7 aperture. Night Sight allows you to take stunning photographs, even when it's dark, foggy or early in the morning.
iPhone SE
Take artistic portraits in six different effects with the iPhone SE, including Studio Light, Natural Light, Contour Light, Stage Light, Mono Stage Light and High‑Key Light. Depth Control and Smart HDR will keep your subject the focal point by blurring the background to your desired intensity and focusing on your subject's face. These features are in addition to camera standards, like auto image stabilization, burst mode and geotagging.
The front-facing camera has 7MP and ƒ/2.2 aperture with 30 fps 1080p and 720p HD video recording. The back camera is slightly more powerful, with a 12MP ƒ/1.8 aperture lens, advanced red-eye correction and 4K video recording up to 60fps. You can even switch seamlessly from video to capture mode by briefly pressing the shutter button to take 8MP pictures without pausing your video recording.
Built-In Features
Additional built-in features are what makes purchasing a new phone fun and exciting. Certain features, like a headphone jack or parental controls, are non-negotiable for some users. Other features are simply icing on the cake, like fingerprint sensors and facial recognition or wireless charging options.
Pixel 4a
The Pixel 4a is a straightforward device, focused on offering strong performance and battery life. That said, the new release is not without built-in assets like these features:
Headphone jack: As built-in audio jacks become less standard in smartphones, it's exciting to see a new release that still gives you the option. Headphone users, rejoice — the Pixel 4a will not force you to upgrade to wireless buds.
Google Assistant: As one of the world's leading digital assistants, Google Assistant is available in 90 different languages and available to help you make calls and send and receive text messages.
Live Caption: Live Caption is a handy feature that enables the Pixel 4a to transcribe videos, podcasts, telephone calls and some third-party messaging apps.
Some reports also note that future Android updates may bring exciting features like built-in screen recording and quick controls to the Pixel lineup.
iPhone SE
Apple has packed the SE with its own set of desirable features, including:
Touch ID: Touch ID makes unlocking and using your phone quick and seamless, and is compatible with Apple Pay. The SE has additional sensors for things like proximity and ambient light.
Augmented reality: It's safe to say that augmented reality (AR) technology is one recent trend that isn't going away. With the SE, you can use built-in AR capabilities with AR-enabled apps to bring things to life in a new way.
Audio sharing: Through the SE does not have a headphone jack, you can pair two different wireless audio headphones to the same phone at the same time for dual listening. If you prefer to keep using your favorite wired headset, you can easily attach a headphone adapter.
Siri assistance: As with all Apple and iPhone products, the SE gives you access to their Siri virtual assistant, who can help you make calls, send texts and receive alerts.

Appearance and Usability
Though secondary to performance, we all want our phones to look and feel good in our hands. For many of us, our cell phones are a chance to showcase our unique personalities and interests. Thin bezels, smudge-proof screens and sleek casings are must-haves for modern phone users. Appearance is also directly linked with the phone's usability, like how well it fits into one hand, the ease of the button location and whether the screen is large enough to see comfortably. Appearance and usability include additional features, like color quality and light balance. Though most mid-range models are not as thin as their top-of-the-line counterparts, they still offer attractive designs at a fraction of the cost.
Pixel 4a
At 5.8 inches, the Pixel 4a has a slightly bigger display than the SE, with a 1080-by-2340 OLED always-on touchscreen display and HDR support. No need to worry about which color option is right for you — the Pixel 4a is only available in timeless black. The fingerprint sensor is located on the back of the phone. Call Screen is a built-in phone call screening capability that can filter out all those annoying robocalls and telemarketers. It also has a crash detection system that will send your emergency contacts an alert if it senses an accident has occurred.
iPhone SE
The iPhone SE retains the classic iPhone appearance and has a widescreen that measures 4.7 inches with Retina HD display and 1334-by-750 pixel resolution. The ppi and contrast ratios are 326 and 1400:1, respectively, which is standard. It's available in classic black and white neutrals, as well as a vibrant, eye-catching red. The Touch ID fingerprint sensor is located on the front, in the bottom center. True Tone helps your phone screen automatically balance white light, so it's more comfortable to look at and easier on your eyes. Oleophobic coating protects your phone from fingerprint smudges.
Durability
More than 5,700 phone screens are cracked or broken every single hour. We rely on our phones for everyday tasks, like checking the time, reading new recipes, watching videos, getting directions and taking pictures. Because they travel with us wherever we go, most buyers consider durability one of the most important features when choosing a new phone. The more durably a phone is constructed, the longer it will last and the more accidents it can withstand.
Pixel 4a
The Pixel 4a is made out of polycarbonate — a type of strong thermoplastic — with a thinner bezel than previous Pixel models. The screen is constructed out of durable Corning Gorilla Glass. Despite these durable assets, there is no type of water resistance or protection with this phone.
iPhone SE
The iPhone SE has a glass front and back, with color-matched 7000 series aluminum sides — one of the toughest aluminum alloys available — to protect the screen without adding excess weight and bulk to the bezel. Extra-strong sapphire glass covers protect the camera lenses and touch sensors. The SE is even water-resistant, to an extent — it can tolerate up to 1 meter of water for up to half an hour.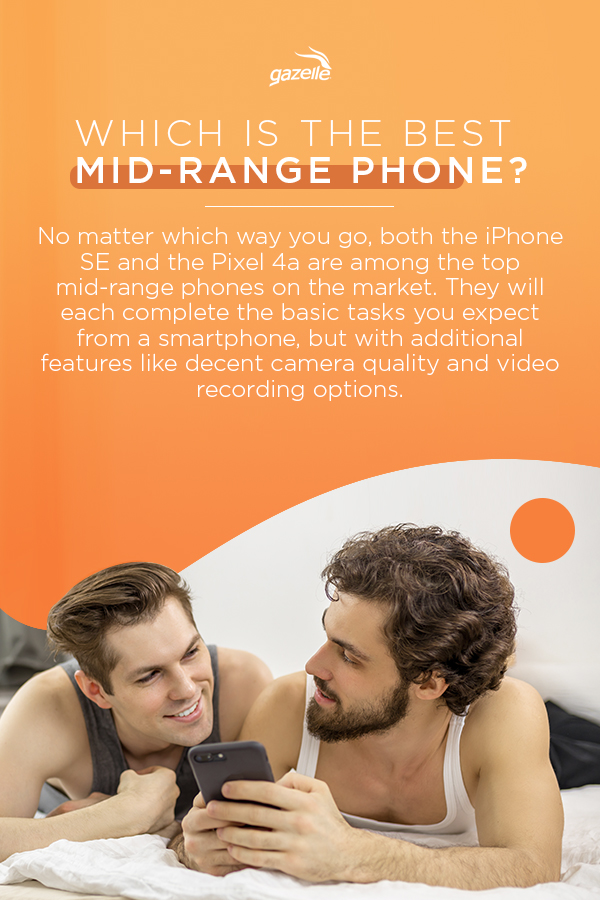 Which Is the Best Mid-Range Phone?
No matter which way you go, both the iPhone SE and the Pixel 4a are among the top mid-range phones on the market. They will each complete the basic tasks you expect from a smartphone, but with additional features like decent camera quality and video recording options.
The Pixel 4a is a sleek, powerful phone for its price point and an ideal match for those who want:
The ability to shoot impressive low-light photography.
Google Assistant.
A built-in headphone jack.
Call screening software.
Adaptive battery capabilities.
Easy integration with other Google devices.
The iPhone SE packs a punch with its camera portrait options and is ideal for those wanting:
Studio-quality portrait photography.
Extra durability, including water resistance.
Augmented reality capabilities.
Siri assistance.
Wireless charging.
Audio sharing.
Easy integration with other Apple products.

Shop Mid-Range Phones at Gazelle
Both the Google Pixel 4a and the Apple iPhone SE are excellent phones for their price. Each one photographs better than many other budget-friendly models on the market, and they offer long-lasting battery with an attractive, modern appearance. When you're ready to choose the perfect mid-range phone for you, you can count on Gazelle for affordable prices and trustworthy service.
At Gazelle, you can trade-in your old device or shop our inventory of used phones in fair, good and excellent conditions to match any budget. Shipping is fast, and you can rest easy knowing our phones are backed by the Gazelle certified quality guarantee and 30-day return policy. When you shop with us, you're promoting a healthier world and minimizing phone waste in landfills. Visit us online to learn more and shop our collection of no-contract phones today!

Comments
comments