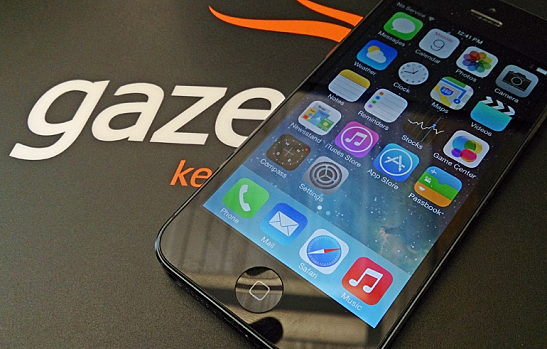 Apple's CEO, Tim Cook, will take the stage tomorrow at Apple's iPhone event to unveil their newest smartphone(s). As with each and every iPhone event in the past, Cook will boast sales figures, retails success and iOS adoption rate before millions of reporters and consumers. The big difference this year compared to years past is that Apple will likely release two iPhone models. Although we do not know all the exact details on what Apple is going to release (wouldn't that be nice), here is what I expect and don't expect at tomorrow's Apple iPhone event.
What we will see at the Apple event:
iPhone 5S
The new high-end upgrade to the iPhone will feature a similar design to last years model, but with bumped-up internals. Many expect a 31% faster A7 chip along with an improved 13MP camera and dual led flash. Rumors of a fingerprint scanner for added security have also been hinted over the past months. Insiders expect to see a gold iPhone 5S as well as a graphite iPhone 5S.
iPhone 5C
Apple will likely release a lower cost iPhone alongside its flagship model tomorrow. The iPhone 5C should cost between $400-$500 off contract, and could be free on a 2-year deal. The "C" is said to stand for "Color," as the device will be made a in a variety of colors. The iPhone 5C could replace the iPhone 4S or the replace the iPhone 5 in the Apple lineup, but we don't know yet.
iOS7
Typically when we see new iPhones, we get a brand new version of iOS and this year is no different. iOS7 represents the biggest and boldest change to the operating system Apple has ever made. The new flat design brings a crisp, refreshed look to Apple devices. iOS7 will also include activation lock which will be added security to find my iPhone to better prevent iPhone theft. Check out our complete roundup of iOS7.
Things we could see at the Apple event:
iPods
Last years Apple iPhone event brought us all new iPods from Apple.. This year we have seen very little to no evidence of new models. Does this mean we will see no updates? Honestly it is a 50/50 call for me. If we do see any updated models I expect it to be in the form of a Nano and a Touch. The Touch could see improved specs and a better camera, along with more colors. As for the Nano I would expect a complete redesign with the possible inclusion of iOS for the first time.
Apple TV
Apple TV rumors have spreading around the web like wildfire over the past few weeks. The latest rumors have the Apple TV refresh coming as a software update only with no new hardware to show. The fact that we are seeing a new version of iOS is a key indicator that Apple TV will see some sort of refresh, even if it is software only. Although the hardware style has not changed in 2 years, the recent success of the Google Chromecast dongle sized TV tuner could force Apple to change their black box design.
Things we definitely won't see at the Apple event:
iPads
With all the recent iPad 5 part leaks, we know Apple is working on a refresh of their iPad lineup. Over the past few weeks we have seen rumors about Apple releasing new iPads at their September 10th event. The truth is. the iPad should be coming in mid to late October once iOS7 is stable. Apple would want a separate event for the iPad so it does not steal the spotlight away from the iPhone. We can expect a new iPad and a new Retina packed iPad Mini 2 later this fall.
iWatch
Apple has been beaten by Samsung announcing their all new Galaxy Gear Smartwatch last week. Analyst Wang Wanli of CIMB Securities, Ltd. revealed in a recent interview with Chinese publication The Commercial Times that Apple is set to launch an iWatch in the second half of 2014. He also claims an expected price point of $199. I wouldn't expect any type of iWatch for tomorrow or even early in 2014. My best bet is summer 2014 at WWDC (Apple's developer conference) or later that fall.
[cf]skyword_tracking_tag[/cf]
Comments
comments