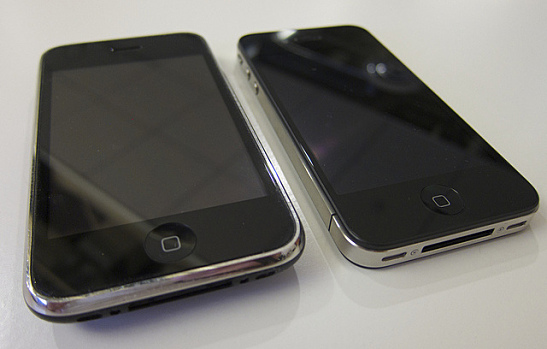 The iPhone 6 may come with a new camera that not only takes image stabilization to another level, but also increases light capture and image quality overall. Mac Rumors reports that Apple is forgoing the optical image stabilization technology used in previous iPhones and is instead equipping the iPhone 6 camera with an electronic image stabilization system. Apple fans can look forward not only to crisper pictures, but also a smoother phone design overall.
The Camera
A common complaint from phone users has been that nighttime shots come out spotty and blurred due to the poor light-capture capabilities of the smaller pixel size most phones employ. The iPhone 5s had a 1.5 micrometer (μm) pixel size, but the new iPhone 6 camera will come standard with 1.75 μm — a full 17 percent larger.
Image quality is further improved by the electronic image stabilization system, which also allows the camera to be slimmed down to fit inside the phone's smaller frame. This will leave the camera lens less exposed to possible scratches, though dust build-up may become a problem. This is still speculation, however, since photos "posted by Japanese magazine MacFan last month depicted the iPhone 6 with a protruding camera," according to Mac Rumors.
Changes to the Phone
The camera isn't the first rumored update to the phone. Over the past year, new and updated information has come out, either through rumors or Apple news releases, announcing changes to the display, battery life, pricing, and operating system as well. The iPhone 6 will be the first iPhone to be released with two display size options: 4.7 inches and 5.5 inches. According to Reuters, this has caused some problems in the production process and pushed back the scheduled release date for the larger model. In response to both the improved power of the camera and the increased screen size, the battery life had to be improved to even get the phone running, which is another reason for the larger version's delay. At least users will get to look forward to the iPhone 6 coming standard with iOS 8 preloaded.
The camera is just one of the many rumors that seem to be popping up every month as the world gets closer to seeing the iPhone 6 hit the shelves. These rumors shouldn't be dismissed easily, since almost all of them have been corroborated in one fashion or another, and the information about the increased pixel size and electronic stabilization system implementation come from solid sources.
What features would you like to see on the upcoming iPhone 6?
Image courtesy of Flickr
[cf]skyword_tracking_tag[/cf]
Comments
comments