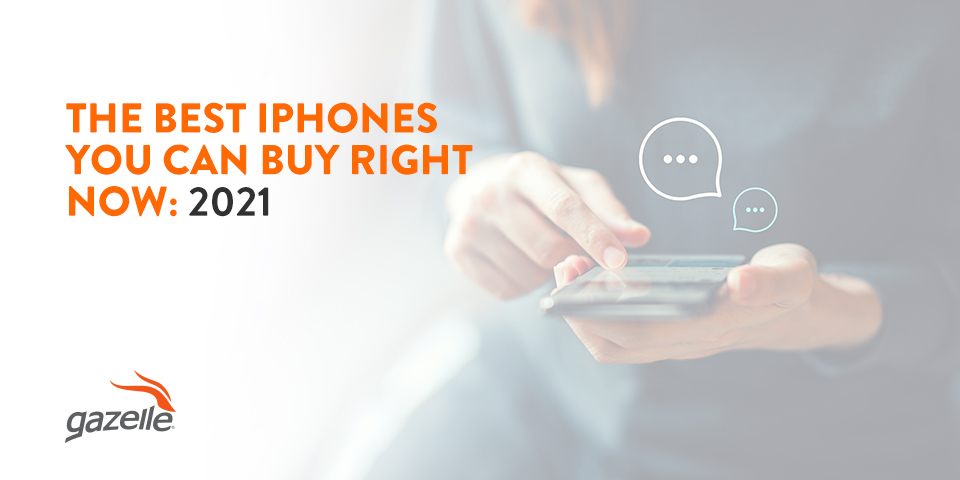 New smartphones are exciting — they're packed full of fun new features, camera upgrades and faster speeds. But just because a smartphone is brand new doesn't mean it's automatically the best option on the market. With such an extensive lineup of devices, you can take your pick of iPhones for your next upgrade. Shopping for older releases or used devices is also a good way to save some money while still upgrading to a better phone.
Learn more about the best iPhones available today and why there's never been a better time to shop the used and refurbished market.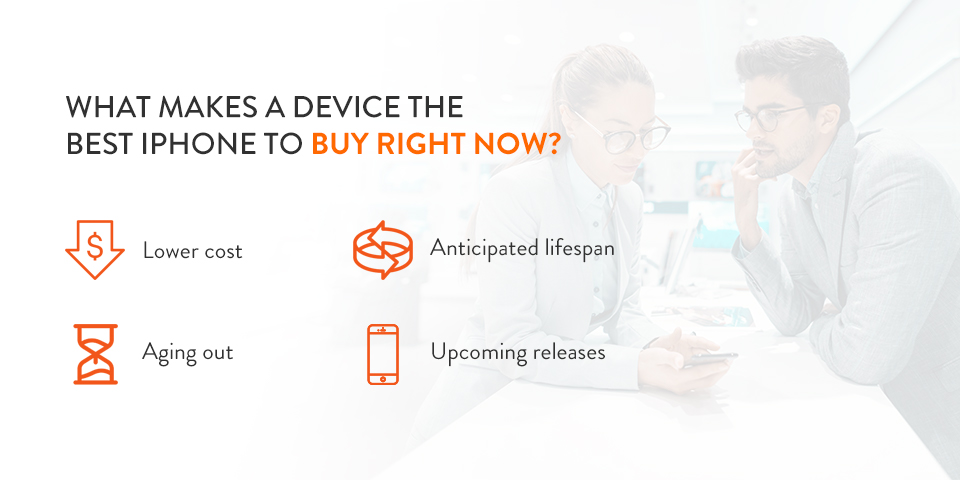 What Makes a Device the Best iPhone to Buy Right Now?
Apple typically releases at least one new device or entire lineup each year, with the average smartphone user replacing their device every few years. Unless you have an upgrade contract, brand new releases can be too expensive for the average user. Instead, many invest in used, refurbished or older devices when they're ready for an upgrade because they offer a more affordable alternative.
What makes a cell phone a good investment right now? If it matches one or more of the following criteria:
Lower cost: The older a phone is, the more affordable it is — especially if you choose to shop used and refurbished. Buying a used or aged device instead of a new release can save you hundreds of dollars without making huge performance sacrifices.
Aging out: With each passing year and every new release, some devices are reaching the end of their usable lifespan. Some smartphones become too old to receive new upgrades or work with today's applications. For example, someone used to the camera quality and speeds of an iPhone 10 or even an iPhone 8 would have a hard time adapting to an original iPhone from 2007. If a device is a few years away from becoming obsolete, now is the time to buy it — it will still offer a few years of reliable performance for what is likely the lowest possible price.
Anticipated lifespan: Though some cell phone users upgrade their device every one to two years, phones can last far longer than that with proper care, like incorporating regular cleanings and inspections into your daily routine. You can also invest in a protective phone case and repair or replace batteries and screens as needed. With these tips in your routine, investing in an old or used smartphone is a great way to save significant money, and you'll enjoy the same perks as someone who bought it brand new.
Upcoming releases: If the rumors are true — and they likely are, if Apple sticks to its existing pattern — then 2021 will see the release of an iPhone 13 lineup complete with multiple devices. That means there is no better time to invest in one of Apple's more recent iPhone releases as retailers pave the way to stock shelves with newer models.
The iPhone SE 2nd Gen
The iPhone SE 2020 is the second-generation follow-up to Apple's earlier SE device, and both were released to be a mid-range option. With a 2020 release, the iPhone SE price debuted at $399, but today you can find it used and refurbished in the low to mid-$200 range. The second-generation iPhone SE is compact and easily portable, ideal as an entry-level device for those new to Apple or someone seeking a simple-to-use, no-fuss phone that still performs well and delivers an authentic iPhone experience.
Specs
In terms of design, the SE 2nd generation has larger bezels than most other Apple phones released the same year, but it makes up for it in processor power since it uses the same A13 Bionic chip that the more expensive iPhone 11 Pro used. The glass-back and low-carbon aluminum frame phone debuted in black, white and red. There is no physical home button, but it does use Touch ID, a feature no longer standard in all Apple phones.
iPhone SE 2020 specs include:
5.45 inches tall
2.65 inches wide
5.22 ounces
4.7-inch diagonal display
64GB, 128GB and 256GB storage options
You also get IP67 splash, dust and water resistance, which means your device can withstand a maximum of 1 meter of water for up to 30 minutes. The device is dual-SIM compatible, but you won't be able to pair it — or any iPhone on this list — with existing micro-SIM cards. Like all Apple phones, you can expect regular iOS software updates from Apple, so you're always running the latest option. The SE 2020 is also one of Apple's more eco-friendly designs since every device in the lineup was pledged to contain at least 35% recycled plastic across various components.
Camera
The iPhone SE 2nd Gen has one camera on the back and one in the front:
Back: The six-element lens on the back is a 12MP Wide camera protected by sapphire crystal. Though more basic than some of Apple's other cameras released around the same time, it can still capture good photos with optical image stabilization, red-eye correction and next-gen smart HDR. Enjoy portrait lighting with six included effects and other bonus features like panorama and burst mode. Digital zoom reaches up to 5x. You can record 4K videos at 24, 25, 30 and 60 fps; 1080p videos at 25, 30 and 60 fps; and 720p videos at 30 fps. Video support also includes slo-mo, time-lapse and the ability to take 8MP still photos while shooting in 4K.
Front: The 7MP front camera features the same portrait lighting and effects, as well as auto HDR and 1080p video at 25 or 30 fps. Recordings have cinematic video stabilization options.
Although these cameras are perfectly suitable for a novice smartphone photographer, they do lack some of the low light finesse we've come to expect from Apple.
Battery Life
Apple advertises the SE 2020 as having:
Video playback up to 13 hours.
Streamed video playback up to 8 hours.
Audio playback up to 40 hours.
One industry reviewer found an average of 4 to 5 hours of screen-on time with all-day use. It is fast-charge capable when you pair it with a 20W adapter or higher. Wireless charging is another option.
The iPhone 11
The iPhone 11 was Apple's 2019 flagship device, released at a surprisingly low price of $699. The iPhone 11 price is even lower on the aftermarket, with costs ranging from the mid-$400s to low $600s, depending on the color, carrier and storage capacity. The 11 offers similar processing power to the newer 2020 lineup and has managed to age well, even in 2021. The cameras are still top-notch, while speed and battery life won't leave you wanting.
Specs
The iPhone 11 debuted in an array of pastels and neutrals — black, white, yellow, purple, green and red — all designed with recyclable low-carbon aluminum and a fingerprint-resistant coating.
The phone clocked in at:
5.94 inches tall.
2.98 inches wide.
6.84 ounces.
6.1-inch diagonal display.
64, 128 and 256GB configurations.
It runs on the same A13 Bionic chip as the previously mentioned SE 2020, but this time without Touch ID. Device defense includes IP68 for splash, water and dust resistance, protective for up to 2 meters of submersion for 30 minutes or less. The iPhone 11 is dual-SIM compatible.
Camera
As a more premium offering, the iPhone 11 has dual cameras on the back and one on the front:
Back: The dual configuration includes 12MP Wide and Ultra-Wide lenses, each with 2x optical zoom out and digital zoom in up to 5x. You get the standard portrait mode, portrait lighting and six accompanying effects, with optical image stabilization, smart HDR and red-eye correction. The Wide lens — which shoots in night mode and deep fusion — is six-element, while the Ultra-Wide sits at five. Both are protected by a sapphire crystal covering. Record 4K videos at 24, 25, 30 and 60 fps: 1080p at 25, 30 and 60 fps; or 720p at 30 fps, with audio zoom and digital zoom up to 3x. Video features include slo-mo, quick take and the ability to capture 8MP pictures while recording.
Front: The TrueDepth front camera is designed for FaceID at 12MP. It shoots 4K and 1080p videos in the same fps configuration as the back cameras, with the same slo-mo support and added cinematic stabilization. It's also compatible with Animoji and Memoji.
Battery Life
Fast-charge your iPhone 11 up to 50% full in 30 minutes with a 20W adapter or higher. Battery expectancy includes:
Video playback up to 17 hours.
Streamed video playback up to 10 hours.
Audio playback up to 65 hours.
The phone is wireless charging enabled.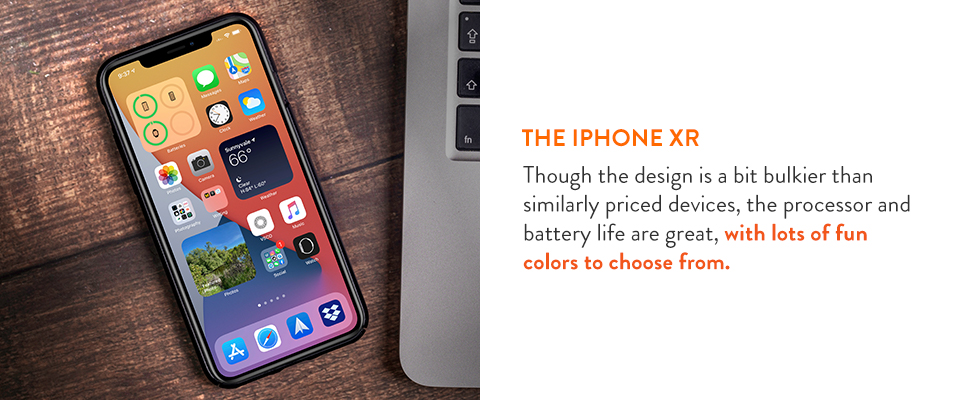 The iPhone XR
Released in October 2018, the iPhone XR still holds its own as a well-performing mid-range smartphone. It debuted at nearly $750, but you can get it for somewhere between the mid-$300s to $400 range now, making it a steal if you're looking for a straightforward, no-nonsense device. Though the design is a bit bulkier than similarly priced devices, the processor and battery life are great, with lots of fun colors to choose from.
Specs
The iPhone XR was a fun release, with six color choices — red, yellow, white, black, blue and coral — and most shades having a slightly pearlized finish. It's rated at IP67 for splash, dust and water resistance, and the entire device is coated in a fingerprint-resistant protective layer.
Specs for the iPhone XR are:
5.94 inches tall
2.98 inches wide
6.1-inch diagonal display
6.84 ounces
64GB or 128GB configurations
The phone is powered by an A12 Bionic chip without a physical home button or TouchID.
Camera
The XR has two straightforward cameras — one on the back and one on the front:
Back: The back camera is a six-element 12MP Wide lens with portrait mode and lighting, but you only get three effects instead of more recent devices' six. Optical image stabilization is included for photos, while videos shoot in cinematic stabilization. You can shoot in 4K with 24, 25, 30 and 60 fps; 1080p HD at 25, 30 and 60 fps; and 720p at 30 fps with digital zoom up to 3x. Videos support slo-mo, LED True Tone flash, time-lapse and photo capture.
Front: The 7MP TrueDepth FaceID camera works with Animoji and Memoji, as well as smart HDR, burst mode and auto stabilization.
Battery Life
With wireless charging and fast-charging abilities, the battery life on the XR doesn't disappoint:
25 hours of talk time
15 hours of internet use
16 hours of video playback
65 hours of audio playback
The iPhone 12
The iPhone 12 is one of Apple's most recent releases, debuting in October 2020 at just under $800 for the starting configuration. Since it's so recent, you won't find it new for a significantly discounted price, but used and refurbished devices are available for cheaper.
Specs
The iPhone 12 has a ceramic shield front, a glass back and an aluminum body, available in red, black, white, navy blue and a mint-colored green. It has the impressive HDR display you would expect with a 2020 smartphone, and it's one of Apple's first 5G-enabled devices.
Specs for this phone are:
5.78 inches tall.
2.82 inches wide.
6.1-inch diagonal display.
5.78 ounces.
64GB, 128GB and 256GB storage capacities.
The phone runs on an ultra-fast A14 Bionic chip, with impressive IP68 dust, water and splash resistance that will keep your phone safe in up to 6 meters of water for 30 minutes. You also get FaceID and dual-SIM compatibility.
Camera
The iPhone 12 has some of the best cell phone cameras on the market, with dual back-facing cameras and one front-facing lens:
Back: The five-element Ultra-Wide and seven-element Wide lenses are each 12MP, with 2x optical zoom out and digital zoom up to 5x. It brings a brighter True Tone flash, with 100% focus pixels for the Wide lens. Each shoots with six portrait effects, as well as night mode, deep fusion and smart HDR. The Ultra-Wide camera also has lens correction. Both cameras are protected with a crystal cover. Shoot cinema-quality films with video HDR with Dolby up to 30 fps; 4K at 24, 25, 30 and 60 fps; 1080p video at 25, 30 and 60 fps; and standard 720p at 30 fps. Videos have optical and cinematic stabilization, with digital zoom up to 3x. Other fan-favorite features include snapping 8MP photos during 4K videos and continuous autofocus.
Front: The 12MP front camera records HDR video with Dolby Vision up to 30 fps and includes night mode, time-lapse, portrait mode and wide color capture for photos. It's Animoji and Memoji compatible.
Battery Life
The iPhone 12 was built to last you as long as a modern smartphone can, with:
Up to 17 hours of video playback.
Up to 11 hours of streamed video playback.
65 hours of audio playback.
Fast charge your device up to 50% in half an hour with a 20W or higher adapter. It's also compatible with wireless charging, including MagSafe.

The iPhone 8 Plus
Hitting the market in autumn 2017, the iPhone 8 Plus is the oldest device on the list. Its original cost was about $700, but you can find it for as low as the mid-$200s and low $300s today. Why include a phone some might consider outdated? Because despite its age, the iPhone 8 Plus is one of the best iPhone deals available. It still delivers optimal performance, now at a price you can't beat.
Specs
When it was released, you could get the iPhone 8 Plus in space gray, red, silver and gold. Color options might not be as varied four years later, but you might be surprised. Apple's 2017 phones still had Touch ID and a fingerprint sensor in the home button, with a NANO Sim inside.
The 8 Plus specs include:
6.24 inches tall
3.07 inches wide
7.13 ounces
5.5-inch diagonal display
64GB, 128BG and 256GB variations
Though it runs on the A11 Bionic chip, you're not likely to notice any difference in speed and performance unless you're used to Apple's brand new devices. It's even rated IP67 for splash, dust and water resistance.
Camera
Dual cameras had just secured themselves as the next big move in smartphone design when Apple created the iPhone 8 Plus. You get two cameras in the back and one in the front:
Back: The 12MP cameras are Wide and Telephoto lenses, with digital zoom up to 10x. You still get portrait mode and portrait lighting, though only five of the now-standard six effects. All photos have stabilization, auto HDR and panorama abilities. You can shoot 4K at 24, 30 and 60 fps; 1080p at 30 and 60 fps; and 720p at 30 fps. 1080p also shoots in slo-mo. Video includes cinematic stabilization, time-lapse support and still photo capture while recording.
Front: The front camera, advertised as the FaceTime HD camera, is a 7MP lens that shoots 1080p video at 30fps and has retina flash capabilities.
Battery Life
If you shop for certified-used iPhone 8 Plus smartphones that have undergone quality assurance, you won't have anything to worry about where battery life is concerned. It was advertised with the following:
Up to 21 hours of wireless talk time
Internet use for up to 13 hours
Up to 14 hours of video playback
Up to 60 hours of audio playback
It's even fast-charge and wireless charging compatible.

Shop Affordable iPhones in 2021 With Gazelle
From old releases to brand new devices, 2021 is the perfect time to invest in an affordable iPhone that will last you years to come. Gazelle is your online retailer for certified-quality used and refurbished smartphones. Shop our extensive inventory of cell phones from all manufacturers and carriers, including old and new Apple devices. Every purchase is backed by our 30-day return policy with no contracts or strings attached. Sell us your current cell and get even more money off your next upgrade.
Comments
comments