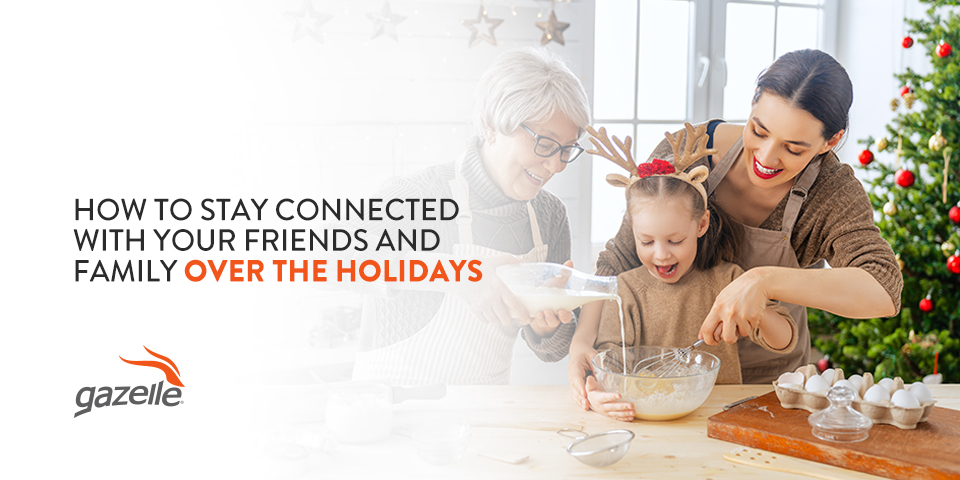 People usually pack their holiday schedules with shopping, parties and vacations galore. The holidays are also a time for making new memories with loved ones. Still, connecting with family can be a challenge during this busy time of year, especially those living far away. 
The Bureau of Transportation Statistics found a 9.2% decrease in holiday travel in 2020. With the continued spread of the COVID-19 pandemic, that trend may continue. One recent survey found 37.42% of adults plan to stay home during the 2021 holiday season. How can you and your loved ones stay safe while continuing to make new memories? 
It can be tricky to maintain a sense of togetherness with family over a long distance. We've gathered some ideas for how to stay connected with family during lockdown or any other time you have to be apart. 
14 Ways to Stay Connected With Your Family and Friends Over the Holidays 
Positive social relationships between family members and friends carry a host of perks for your physical and mental health. There are tons of ways to stay connected with your loved ones, even when you're far apart. You can use technology to foster these relationships and promote healthy family communication. Here are some ideas for staying in touch during the holidays, wherever you and your loved ones find yourselves in the world.
1. Send a Card
Santa isn't the only one who loves to get letters this time of year. In our technology-focused society, classic snail mail is often rare. From writing a message by hand to sealing the envelope and applying the stamp, writing a letter takes more time and effort than sending a text. The amount of care involved makes receiving mail feel like a treat. 
One U.S. Postal Service survey found that 75% of millennials enjoy receiving mail from family and friends. An older family member is also sure to appreciate the gesture. Getting a handwritten note in the mail is meaningful for people of all ages.
The holidays are the perfect time to use your stationery and write a heartfelt letter to your loved ones. Send a note just because or let others know you're thinking of them over the holidays. 

2. Mail a Care Package 
Care packages are a heartfelt way to send a family member or friend some goodies. Holiday packages always bring a smile to the recipient's face. When you take the time to send a surprise package, you let others know they are in your thoughts. A simple package is sure to brighten their day. 
A care package can be as simple or detailed as you like. You can include a new book, self-care essentials or your loved one's favorite snacks. Do they love your homemade snickerdoodle cookies? Whip up a batch and send them in the mail. Kids can get in on the surprise by including drawings and homemade cards with your package.
3. Pick up the Phone 
When you miss a friend and want to hear their voice, calling them on the phone is the perfect way to catch up. While texting has replaced many conversations, phone calls are far more effective at building stronger connections. Hearing a loved one's voice can make you feel closer to them. A simple phone call can help you overcome the distance. 
Surprise your family members with a random phone call this holiday season. Catch up on their life events, make plans together and ask them about their day. If they don't pick up the phone, you can always leave a message saying how much you miss them and give them a ring later. 
4. Set up a Video Call 
If you and your family have smart devices, you can set a time for a video call. There are plenty of apps for video chats, like Zoom, FaceTime, Skype and many more. These apps are simple to set up and use. With video chatting, you can see and hear your friends during the conversation. Video calls can also make you feel like your family members are there with you. 
The time it takes to get an app working is worth the memories you can make together over a video call. It is fun to virtually see and talk with one another as children grow and parents get older. Kids will love having a video playdate with their cousins or school friends they haven't seen in a while. Setting up a call like this is an excellent way to feel more connected during the holidays.
5. Cook Together
Video chatting apps allow faraway friends to enjoy all kinds of activities together. Cooking a meal together over FaceTime can be a great way to connect to family and friends. Beforehand, you can share a recipe you think the other person will like. Both of you can get the ingredients you'll need. Then, choose a time and set up your phone nearby to give your family members a view of the culinary action. 
You can also use cooking to share a connection in other ways. Call your grandma and ask her to walk you through her famous pie recipe. She can give you pointers as you go and create a memorable cooking experience. You can also create a family-wide cooking club. Pick a new recipe to try every month. Then, set a time for everyone to join on the same video chatting platform, and see what creations you can make. 
6. Start a Book Club 
A virtual book club may be a popular idea if you have a family or friend group full of book lovers. A book club can keep everyone in touch and spark fun conversations. You can meet monthly or biweekly to discuss your chosen book. Enjoy a quiet evening, catch up together and share your thoughts on the latest read. 
Round up your friends and family and have the group choose a theme and reading schedule to get started. You can find lots of exciting book club ideas and discussion prompts online. If you want to join an existing club, you can also find an online book club and connect with readers worldwide. 
7. Tour the World From Your Couch 
If you're longing to travel, all you need is an internet connection to take your friends with you on a tour of the world. Museums and organizations across the world now allow people to visit virtually. You can pick a date and time, set up a video call and share your screen to begin your travels. 
Start by learning everyone's interests so you can find something to involve the entire group. Google Arts and Culture features virtual tours of some of the world's best art and history museums. You can navigate the galleries and get up close to artworks, architecture and more. Many museum websites also display their tours. Travel to America's national parks or the International Space Station.

8. Host a Virtual Dinner Party 
Sharing a holiday dinner with specialty foods may be one of your favorite traditions. With the help of technology, you can enjoy a virtual dinner with the entire family — and no need to pass dishes around the table!
Even if you order takeout, getting everyone together for a meal can be fun. Send an invitation to the whole family, or a mix of friends. Make sure everyone has the same web conferencing app so they can join. If it's a special occasion like a birthday or family dinner, dress up and light a candle to add some flair. 
9. Play Games
You can still beat your younger brother at Monopoly, even if you live far apart! With a virtual game night, you can keep your family's game night going throughout the holidays. If everyone has a deck of cards or a copy of the same board game, play should be easy over FaceTime or Zoom. With some practice, you can also play with one game set while everyone is apart.
There are also a host of virtual games to play with several people. Several classic games have apps or online versions you can play on FaceTime. If board games aren't your thing, you can also connect through internet games and video games. Some video games allow multiple players to play and chat in real time. Some friendly competition can be a fun way to spend the evening together. 
10. Throw a Watch Party 
Maybe all your friends are excited about a new movie, or your family has a special show to watch on Tuesday nights. With streaming services like Netflix's Teleparty, everyone can watch together. You can grab a bowl of popcorn and catch a movie while everyone streams in. Teleparty syncs video playback to keep everyone's screen aligned. You can also chat in the group message feature to discuss the plot in real time as it unfolds.  
There is much more to watch than movies when you set up a virtual watch party. You can also make time for the whole family to watch a live show or attend a festival. Plenty of events are offering tickets so fans can stream performances live. You can get tickets to a production by a favorite band, comedian or orchestra to attend together. 
11. Make a Shared Playlist 
Several studies show that music can improve your mood by promoting emotional expression. Music is a powerful tool for connection. Listening to your favorite music over the holidays can help you feel closer to loved ones. 
Several major music platforms allow collaboration on or sharing playlists. Making a shared playlist can help you get to know your friends' and family's music tastes. If the platform enables collaboration, your friends can edit it or add songs they like. Together, you can create a unique blend of sounds for the season. Make a playlist for a holiday or your relationship, then press play when you miss each other.

12. Get Your Workout In
Getting friends and family involved in your fitness goals is a great way to stay on track. With a workout buddy, you can keep motivated and have fun in the process. The internet allows you to stay active and exercise with a loved one across the country. Pick a time and set a date to set up a virtual workout or Pilates session with a friend. You can access free workout plans or videos online or create your own. 
If you want a more organized plan, you and your friends can also sign up for online training. Search "virtual workout classes" to find a workout plan that fits you. The possibilities include ballet and boxing, yoga and high-intensity interval training. Many workouts are free, though you might also choose a paid subscription. By joining the same workout program, you and your family can help each other live healthier lives. 
13. Create a Family Website 
Even with the help of technology, it can be challenging to stay updated. A family website may be the solution for keeping everyone informed with the latest news. Many websites and blog platforms allow you to create a free site to share with family members. Then, they can log on whenever they want. Everyone can post photos, updates and recipes for the group.
You can also create a private social media page for family or friends. Decide whether to use a personal Instagram account, YouTube channel or Facebook group. You can use it to share updates, take polls or post funny home videos. A family page or website can be more effective than sending mass messages in a group chat. It helps keep everything in one central place. 
14. Learn Something New 
Learning and growing together is a time-honored way to stay connected to friends and family. You can find unique ways to explore your family's or friends' interests by sharing your skills. If your grandfather is a master at playing chess, you can set up a weekly call to learn his moves. Maybe your niece is a fabulous knitter, and you'd like to learn a few stitches. The options are endless for connecting with a family member over their hobby. 
You can also take classes together to learn an entirely new skill. Online courses teach any art, craft and skill you can imagine. Sharpen your piano skills or learn to use watercolors together. With some technology and creativity, you can strengthen your relationships even while apart. 

Shop Gazelle for Devices to Help You Connect 
This holiday season might have less travel and fewer gatherings than before. It can be hard to miss faraway loved ones during the holidays. However, there are still a lot of ways to bridge the distance between you. Using technology and a bit of creativity can bring you and your family and friends together. Whatever your situation this holiday season, you can make lasting memories.
Gazelle has a wide range of devices to help you stay connected during the holidays. Whether you stream movies online or share ugly Christmas sweater photos, we can help. We have the phones, laptops and tablets you need to maximize your virtual quality time. All Gazelle devices include our Certified Guarantee for quality assurance. With our 30-day return policy, shopping for a device is more convenient than ever. 
Shop Gazelle online for our selection of affordable devices, from smartphones to iPads.
Comments
comments